Titletown Wealth Management, LLC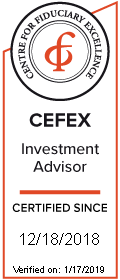 Welcome to Titletown Wealth Management. We work in your best interest as a fiduciary. Our priority is to be good stewards of your assets to help reach your goals. Not only are we all Accredited Investment Fiduciaries but our practice has been CEFEX Certified. We felt it was very important to earn our CEFEX Certification as a firm to further ensure us and our clients that we are consistently following the best Fiduciary disciplines and prudent practices. To learn more about CEFEX please see below:
What it means for an advisory firm to be CEFEX Certified
How does an individual benefit from his or her advisor being CEFEX Certified
To view our certification please click here

Third-party recognitions are no guarantee of future investment success and do not ensure that a client or prospective client will experience a higher level of performance or results. These recognitions should not be construed as an endorsement of the advisor by any client nor are they representative of any one client's evaluation.